Human Resources
15+ In-Depth Student Reviews of Studying CIPD with ICS Learn
Accelerate your HR career with a globally-recognised CIPD qualification.
---
When you're considering providers for CIPD qualifications, it can seem almost impossible to make a decision.
To help you make up your mind on whether our HR and L&D courses are right for you, we're giving you a sneak peek into what it's like to study with us through our CIPD student reviews.
Below, you'll find a cross section of reviews across all levels, so no matter which CIPD qualification you're thinking of studying, you can read about our past and current students' experiences.
---
Jump to: 
ICS Learn CIPD Level 3 Student Reviews
Anika Parmar
"After choosing ICS Learn, I had a number of recruiters contacting me for HR roles and I couldn't believe it! The level of attraction I received once putting the words 'Studying towards CIPD' on my CV was immense."
Anika also studied a Level 7 qualification with us after completing her Level 3 course. Here's what she had to say about her experience with the Advanced qualification.
"I would highly recommend this to anyone who is thinking of doing the same and is serious about their career progression.
"It's definitely beneficial and has opened up a lot of doors for me, especially when the job market is so competitive!"
Read Anika's full Level 3 review, or check out her review of our Level 7 course here.
Nin Sandhu
"I really wanted to break into HR/Learning and Development roles, but the jobs I was applying for required a CIPD qualification, so I then took the leap and started with ICS Learn.
"From not being able to get an interview for roles I started getting offers as soon as I mentioned CIPD on my CV."
Nikki Long
"Other course providers did not offer upfront information about how support would be given and by whom. ICS Learn proudly promoted their tutors and high levels of expertise. This gave me confidence that I would be in good hands.
"Just 1 month after enrolling with ICS Learn for my CIPD course, I landed my first HR role and am over the moon!"
Marion Turvey
"I have now found a HR position for a reputable local company, in an industry I am passionate about. I am able to care for my family and study at the same time – everything at my own pace.
"I want to work my way up towards business partnering and I have now enrolled to the HR Management Diploma Level 5; I am genuinely looking forward to the course content."
Kirsty Lloyd
"I have done other courses with the local college and found the support with ICS Learn a lot better, the fact that you can contact on evenings and weekends is great as this is when I'm doing my studying."
ICS Learn CIPD Level 5 Student Reviews
Hollie Powell
"I have had a fantastic experience studying with ICS Learn and I would like to encourage others to do the same. I genuinely feel like the course is helping me achieve bigger and better things in my career."
Emily Chambers
"Once I got into the habit of studying, it became part of my routine. The 24 access to the dashboards and the study guidance ICS Learn provides is really helpful.
"I now have the confidence and skills to work at a more strategic level, looking at the bigger picture within HR."
Kayleigh Weichers
"Studying with ICS Learn is great for students in all walks of life, especially if you require a bit more flexibility so you can still enjoy your professional and social life whilst also gaining an excellent qualification!"
Susan Burns
"I started studying my Level 5 CIPD Diploma in Human Resource Management in April 2018 and it has given me the confidence and boost needed to finally make the move into a HR role.
"In August I managed to secure my first role in HR, after working in recruitment for nearly 20 years."
Jennifer Thomas
"My role has changed, and I am now a People Development Advisor which allows me to use all of the skills which I have learnt within my qualification. It has provided me with confidence within my practice and I have also been able to network with other like-minded people.
"The course has made me think strategically about Learning and Development, by building business cases and policies."
ICS Learn CIPD Level 7 Student Reviews
Laura Ruiz Garcia
"This qualification has allowed me to work full-time at the same time and not feel under pressure. You decide when and where you want to study, and you have access to the student community 24/7.
"I currently work as a Human Resources Advisor and this qualification is very valued by my employer."
Klaudia Czechowicz
"Shortly after getting my CIPD Level 7 Diploma, I got an interview for an HR Business Partner role within my company and secured the role. I have been an HRBP for 10 months now and have never been happier!"
Wesley Lum
"I found the members of staff and tutors from ICS Learn are highly responsive, professional, and committed to their students.
"All units within the module were very informative, well-written, and well-delivered due to the tutor's experience and knowledge in Human Resources and Employment Law."
Aziz Hassan
"I have been able to pay in equally affordable interest-free monthly instalments which no other competitor I found can provide.
"I really appreciate the speed tutors usually turnaround to your inquiry, super-fast - it's almost like they are available 24/7."
Bernadette Aquino
"I have been able to use my studies in making decisions at work and able to relate the practical way of my work to my academic studies.
"The tutors on my modules are friendly and approachable which has made me feel very supported throughout the course."
Read Bernadette's full review.
Check out this video compilation for more CIPD student reviews: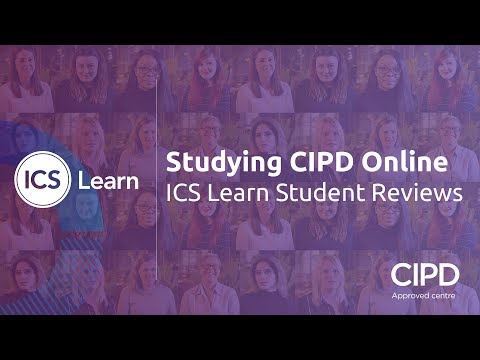 We hope that these reviews have helped you to decide whether studying your CIPD qualification with us is right for you.
If you have any questions about our CIPD courses or choosing which course is right for you, do get in touch with our specialist advisors – they'll be more than happy to help.
---
Get started on your CIPD career journey and find out where your CIPD qualification could take you.
---
Ready to advance your HR career?
Request your guide to getting CIPD qualified online with unlimited 1:1 tutor support and interest-free plans.